Chiropractic Care for Families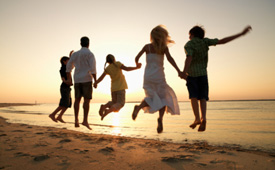 Let's face it—life can be tough at times. And while there's no getting around it, you can get ahead of it by choosing natural and effective chiropractic care for your family. By allowing us to make small adjustments to your spine, we can help your body better manage stressors and trauma, improving overall wellness.
Here's how it works.
When your body experiences "subluxation" or misalignment, the communication between your brain and body is disrupted, which means your brain can't communicate with your organs and muscles correctly. Think of it this way—experiencing nervous system interference is a lot like losing a signal on your cell phone when entering a tunnel or parking garage. A chiropractic adjustment works to clear up that static causing disruption between your brain and body, allowing signals to flow freely through your spine.
A Healthy, Happy Life
Being free of subluxation means living a life you love! Many of our patients report that they can move better, feel better and have a better quality of life. Here are a few different conditions chiropractic care may be able to help for you:
Headaches and Migraines
Neck pain
Upper back tension
Low back pain
Sciatica
Scoliosis
Arthritis / Joint pain
Shoulder pain
Carpal tunnel
Asthma
Ear infections
Colic
Anxiety
PTSD
Sensory Processing Disorders
Foggy brain
Concussion protocols
Improve athlete performance
Improved sleep
Improved behavior/attitude
Improved immune system function
Knee pain
Plantar fasciitis
Acid reflux
Digestive issues
Infertility
Prenatal care
ADHD
Autism
Care for the Entire Family
At Parent Chiropractic Center, we want you to know that we welcome patients of all ages—from the youngest member of your family to pregnant mothers and even senior citizens. Chiropractic can also be a great addition to an athlete's repertoire of any skill level. Ask us how it can help!
Additional Services
In additional to traditional chiropractic care, we also have the Insight Subluxation station, the ProAdjustor, and Footlevelers orthotics. We are also an authorized BrainSpan provider. This is a brain wellness assessment that allows us to understand the health of your brain and adjust your care as necessary.
Learn More Today
If you'd like to learn more about how natural, safe and effective chiropractic care can positively influence your life, contact our practice today to get started. We look forward to meeting you and helping you achieve your goals in wellness!
---
Chiropractic Care Londonderry | Parent Chiropractic Center